Description
To Eat Right-You Need To Shop Right!
From the experts you trust
at the University of California, Berkeley Wellness Letter …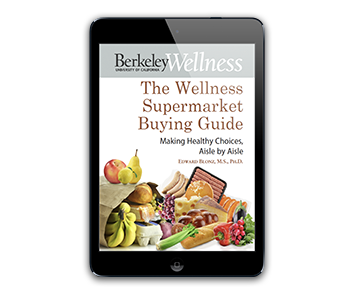 The Wellness Supermarket Buying Guide
Making Healthy Choices, Aisle-by-Aisle
Written by Edward Blonz, M.S., Ph.D.
Editorial board member of the UC Berkeley Wellness Letter
and syndicated columnist
Eating a healthy diet-it's the cornerstone of wellness, the foundation for helping to optimize your health, control your weight and promote longevity.
As a subscriber to a wellness lifestyle, you are probably familiar with the key ingredients of a healthy diet-a diet built around plenty of fruits and vegetables, whole grains, "good" unsaturated fats, and healthy sources of protein.
But if you want to eat right, you have to shop right-and that can be a challenge when you're trying to choose the healthiest foods (at the best price) in the average supermarket-which carries close to 40,000 different items.
It's a rare shopper who can resist just a few "great deals." (That's just what the supermarket designers want!)
The key to navigating the supermarket is to keep healthy eating in mind in every aisle. And that's where we can help …
Our Wellness Supermarket Buying Guide takes the nutrition expertise of the Wellness Letter and makes it actionable-from the moment you first step into a store to do your grocery shopping. It will help you make the best choices from among the dizzying array of options you face. You'll find advice on how to select foods that are healthier and more environmentally friendly-and on how to get out of the store faster and with more money left in your pocket.
With the same positive, practical, evidence-based approach that characterizes the Wellness Letter, The Wellness Supermarket Buying Guide clarifies the often conflicting and superficial health information presented by the popular media to give you the edge in your quest to live the best life you can. Lively, clearly written, and packed with information you won't find in any other single source, this 90-page guide is a must read for anyone concerned with making healthy food choices.
Not sure whether omega-3-enriched eggs are a good buy?
Whether canned beans are as good as dried beans?
Which seafood choices are best for both you and the environment?
What the difference is between "Certified Humane" and "Animal Welfare Approved" meat?
Whether Greek yogurt is more nutritious than regular yogurt?
What the "Bird Friendly" label means for the environment?
Whether green tea is better for you than black?
If multigrain breads are the same as whole grain?
How much juice is in a drink labeled "juice drink?"
Whether coconut water is the right choice for rehydration after a work out?
Whether you should avoid rBST in milk?
If brown eggs are more nutritious than white eggs?
How to decipher the information on meat and poultry labels-air-chilled, certified organic, grass fed, mechanically separated, Kosher or Halal, natural?
Why whole-grain pasta is healthier than traditional Italian pasta made with semolina flour?
If you should spend more to buy organic products?
You'll find the answers to these and many other questions in The Wellness Supermarket Buying Guide. Each chapter, organized alphabetically by category-from beans to whole grains-includes the following features:
For Your Health-a brief summary of the health benefits of each food.
In-the-Store Essentials-information to help you better understand the products you'll encounter and the quirks of the supermarket industry.
In Your Cart-our suggestions on what you should-and should not-buy.
Plus scattered throughout this report are environmental tidbits, identified by green boxes.
You'll learn the healthy facts about: beans, beverages, bread, cereals, condiments, dairy foods, desserts, eggs, frozen entrees, meat & poultry, nuts & nut butters, pasta, produce, seafood, snack foods, soups, spreads, and whole grains.
The Wellness Supermarket Buying Guide also features clearly worded explanations of the nutritional information, symbols and other confusing labels you find on many packages-including "Facts Up Front" (the new label from the Grocery Manufacturers Association), Heart-Check Mark, Whole Grain Stamp, and NuVal food-scoring system.
Unique tips and insights for getting optimal nutrition
from the grocery shelf to your dining table
The Wellness Supermarket Buying Guide discusses 18 key food groups. Here is just a small sample of the important topics we discuss …
Which food group has one of the lowest costs per nutritional value and includes adzuki, black, cranberry, soy, lentil, and dozens of others?
Is "sprouted" or "stone ground" wheat nutritionally superior to plain old whole wheat?
Which condiments are the best sources of potentially beneficial plant compounds? And which pack the most calories and sodium?
Yea or nay: A cereal that includes barley malt, beet sugar, levulose, rice syrup, or sorghum in the ingredient list doesn't contain sugar?
Which is a better choice and why: milk in a plastic jug or in a cardboard carton?
Why you should steer clear of raw milk.
What is farmer cheese and is it a good source of calcium?
What's the truth to the claims that dark chocolate is good for your heart?
The lowest-calorie cake choice is …?
Eggs and cholesterol: What do the studies show?
Why are people concerned about the environment critical of frozen entrees?
How does eating meat affect your carbon footprint?
Why it's nuts not to eat nuts-unless you're allergic!
Are bright supermarket lights bad for fresh vegetables?
What's the nutritional difference between seafood that's "wild-caught" or "farmed"?
Which should you use to make hardboiled eggs: a newer egg or an older egg?
What does "Country of Original Labeling" (COOL) tell you about the seafood you're eating?
Is ready-to-serve soup in aseptic boxes a healthy alternative to canned soup?
Comparing margarine and butter: The choice is not as straightforward as you may think.
Is a gluten-free diet good for you if you don't have celiac disease?

University of California, Berkeley,
School of Public Health
The Wellness Supermarket Buying Guide is published by the University of California, Berkeley, School of Public Health. This publication is part of an outgrowth of the School's commitment to help improve the health and wellness of our community of readers by publishing expert advice on the prevention, diagnosis and treatment for a wide range of ailments and disorders. We provide trusted, authoritative health guidance from leading physicians and researchers at America's top medical centers and hospitals.
The School of Public Health is
consistently rated among the best in the nation
The School's faculty members are leading scholars in their respective fields. Many of them are members of the prestigious National Academies of Medicine and Sciences. The School enrolls approximately 700 graduate students a year, and educates about 425 undergraduate students through the upper-division public health major. The School's more than 15,000 graduates can be found working throughout the world, both in the public and private sectors.
The School of Public Health believes that everyone,
everywhere has the right to a healthy life
Your purchase of the The Wellness Supermarket Buying Guide supports the School of Public Health faculty and students in their work to confront the major health challenges of our generation. All profits earned by the University of California, Berkeley, from the sale of the White Papers fund scholarships, fellowships, and student grants, plus resources for student organizations and activities at the School of Public Health. Your purchase will directly benefit your health as well as the health of the greater community.
You can count on The School of Public Health to bring you medical information that is trustworthy, impeccably researched and current.
Our no-strings, can't lose, must-be-satisfied guarantee
The Wellness Supermarket Buying Guide is available instantly in a digital PDF download. Simply click the order button below, and in a few moments you can begin reading!
And the guide comes with a risk-free guarantee of satisfaction: If you're not satisfied for any reason, simply contact Customer Service for a prompt refund of your full purchase price of $24.95. So you risk nothing.
Get on the road to a healthier diet. Order The Wellness Supermarket Buying Guide today.